Collaboration is about communication, and at least for the time being, communication is all about email. So Papyrs sends email notifications to keep everybody in your team up to date. We send emails when a new form is submitted, when a page is modified, when people discuss something via a Discuss widget ans so forth. This is great because it allows you see what other people in your team are up to from your PC, Mac or mobile phone in a glance. We even highlight changes made to a page (it's a huge time saver!)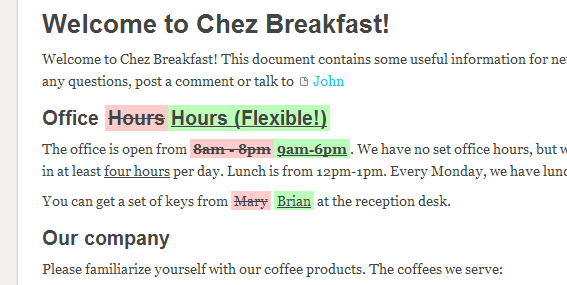 Often you don't just want to read what's going on, you want to actively contribute to the conversation. Up till now you had to click on a link in the email that would take you to the Papyrs page. And then, on the Papyrs page you could take part in the conversation. This approach has a number of downsides:
Guests and casual users of Papyrs may not want to log in just to reply to an email,
or they may have forgotten their password,
or they may be on a slow mobile device and therefore can't easily get to Papyrs.
The solution — reply-by-email
So from now on you can reply to Papyrs activity notifications directly from your email client: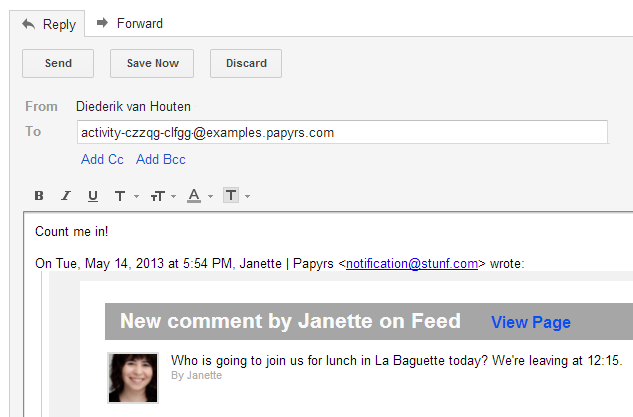 Hit send and in just a moment the activity feed will be updated so everybody knows you're going to join the rest for lunch: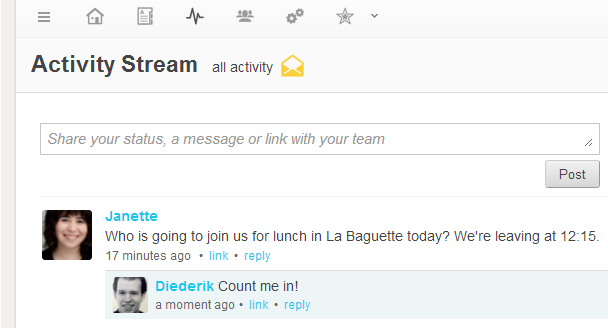 This happens completely automatically. Papyrs will analyse the email you send. Figure out who you're replying to. Create a Papyrs comment in the activity stream. And finally, Papyrs will notify everybody who has elected to receive email updates with your new email message. It's completely automated and it happens in seconds!
So collaborating with Papyrs has never been easier! You don't have to be logged in to take advantage of this feature, because you're already logged in to your email software. That takes care of the first problem and second problem. And since email works great on mobile phones and tablets problem 3 is also taken care of.
That's it for today. Thanks for reading and for using Papyrs. Not using Papyrs yet? Why not give the free trial a spin?
More updates soon!