Just a quick update for Google Apps users on the integration of Papyrs with Google Apps (if you're not using Google Apps, you can skip this post..). Google recently updated their Google Apps Marketplace, so all apps – including Papyrs – needed to be migrated to the new Marketplace. If you signed up for Papyrs for Google Apps recently, you most likely already found us through the new Marketplace. Last week we migrated all older accounts to the new Marketplace.
The changes are mostly under the hood and in the software Google is using internally, so you shouldn't notice any real difference. One minor change you might have noticed is that Papyrs now has its own icon in Google's navigation menu: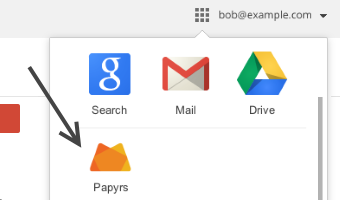 (you might have to click on More in the menu to see it).
Another minor change is that by taking advantage of some new Marketplace options, Papyrs for Google Apps now needs fewer permissions from your Google Apps domain.
Just like before, Papyrs for Google Apps allows you to add Google Calendars and Drive documents to your pages, and offers integrated search and Single Sign On with your domain users.
We tried to make sure as much of the migration was completely automatic. If you have any problems accessing your Google Calendars/Documents/Users from Papyrs, however, your Google Apps domain administrator might have to re-approve the permissions needed by Papyrs in the domain's Admin panel. It just takes two simple steps:
If you see Approval Needed, click the Grant data access:
That's all!
Papyrs among top installs!
We're also very proud to be among the top installs of the Marketplace, making Papyrs for Google Apps the highest rated Google Apps intranet solution. Thanks everyone!