Here's a quick update of some new features and improvements we've added in the last weeks:
Auto-complete combobox input for Choice form fields
By building forms on your intranet pages you can collect all kinds of information and process requests. One of the available form widgets is the Choice widget. This allows visitors of the page to select one or more options, depending on the type of input you choose. The Choice widget supported a select dropdown, checkboxes and radio buttons. We've now added support for an auto-complete combobox field. This is especially useful if you have many options which users can choose from. A list of checkboxes quickly gets unwieldy when you have more than twenty options or so to choose from. With the new auto-complete field, people can just type in one or more options they want to select.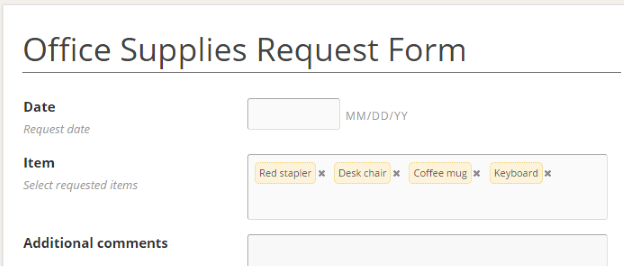 Responsive documentation
We're working on making Papyrs more accessible from mobile devices, and we'll have more news on that soon. For now we've already updated the documentation site, which now uses a responsive design for mobile devices.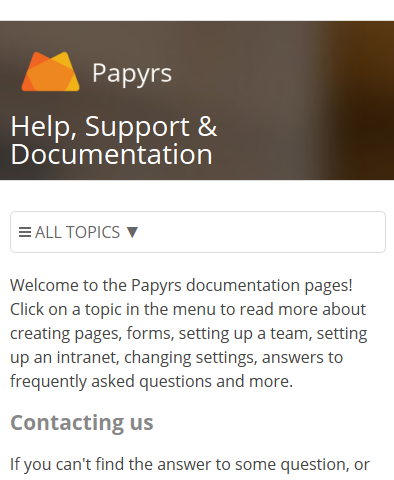 Developers – API and Single Sign On
For developers who want to integrate Papyrs with existing systems, we also have some additional functionality. First of all, the API now supports two new methods: retrieving a list of people from the People Directory, and updating existing Text widgets on a page. You can find the updated documentation at http://papyrs.com/docs/api/.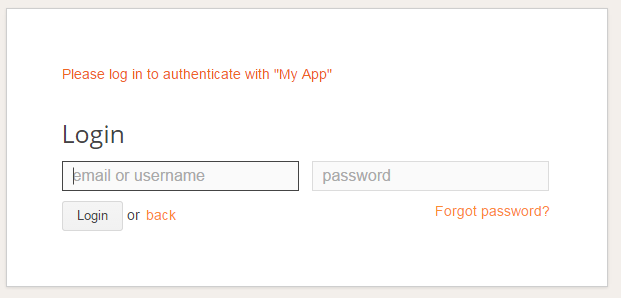 Papyrs also offers Single Sign On integration with Google Apps and Windows networks (LDAP/Active Directory). In addition to that, we now allow developers to use Papyrs as an identity provider to other 3rd party apps. As an intranet site, Papyrs is often a logical starting place for people to start looking for all kinds of information. When other applications are integrated with Papyrs, people can now simply access those connected systems after logging in to Papyrs. The technical details for using Papyrs as SSO provider can be found at http://papyrs.com/docs/single-sign-on/.
Stay tuned for more updates soon!